All information and photos are copyright '© 102 (Ceylon) Squadron Association 2020
(unless indicated otherwise) and may not be used without permission of the association.
Email: 102squadronassociation@gmail.com
The Official Website of the
102 (Ceylon) Squadron Association
102 (Ceylon) Squadron Association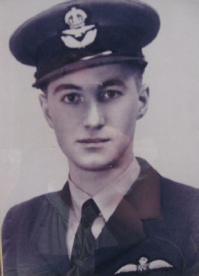 John was born on October 2nd 1921, the eldest child and only son to Ronald and
Nora Withington, (nee Garratt). His father was managing director of the Ford Motor Co in Grantham, coming originally from Rochdale but his mother was from an established Grantham family. Johns birth was followed by that of his three sisters in the next few years.
John attended the local Kings school, which is now a selective grammar school, but at the time was a primary school.
At the age of 13 he was sent to Denstone College, in Staffordshire, to complete his education, where he was awarded several prizes.
When he left school at 18, John went to work in the family business, on his fathers insistence starting as a lowly mechanic, but he went through Ford training to become service manager.
John flew with pretty much the same six men for the whole of his tour,
F/L John Withington - Grantham, Lincs
F/O Lyon - Nav - Southport, Lancs
F/O Gledhill - B/A - Halifax, Yorks
Sgt Davies - W/O - Haverford West
Sgt Florence - A/G - Hinkley
Sgt Fargher - A/G - I.O.M.
Sgt Williams - F/E - Anglesey
In September 1941, John volunteered for the RAF, which according to his youngest sister Margaret, upset his mother terribly. However he became an LAC and started training at the Elementary Flying Training School, Perth. (Photo right of John with D Flight Instructors - 1942/43)
Margaret tells of how he wanted to be a fighter pilot, but was told he was too tall (!) and also, it was thought that his calm nature would be better suited to instructing and working with his own crew.
Johns first experience in a plane was in a DH82 on September 2nd 1941, when he was instructed by P/O Young, learning the basics, and on Sept 11th he undertook his first solo flight.
For the rest of the year, John learnt all the skills needed to pass the test and on Feb 12th 1942, after a total of 68 airborne hours, 64 of which were solo, he was described as 'above average' and had 'shown aptitude as a Pilot Navigator'.
After a total of 131 hours John was a Flight Sergeant; he had flown Magisters, Tiger Moths and Oxford planes. He continued his training and on May 29th 1943 he became a Pilot Officer and was posted to Ansty, near Coventry for the instructors course. He spent several months instructing and on November 29 1943 he was promoted to Flying Officer, and in December of the same year, started practice bombing attached to 76 squadron at Holme on Spalding Moor. In April 1944 John began preparation for bombing raids.
This was what he had joined up for.....and in June he was flying from Kinloss on Whitley V, but in October he piloted a Halifax, and in November he joined 102 Squadron at Pocklington.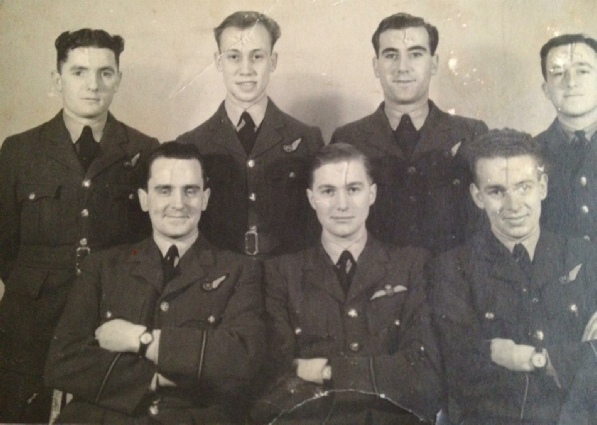 Davies Williams Florence Fargher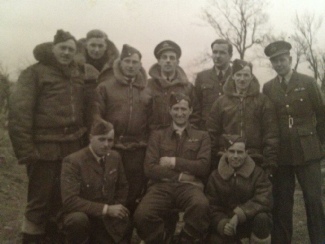 Johns log book can be seen here.
After 3 weeks of "circuits and landings" and cross country practice, December 17th 1944 found him on his first "op" to Duisberg, followed by Mulheim on December 24, where he encountered 'very heavy flak'. On both occasions he landed at Carnaby, an RAF emergency landing strip near Bridlington, East Riding of Yorkshire. RAF Carnaby opened in March 1944 to enable bombers a safe place to land near the English coast.
After Christmas, and a return to base, John was again in action in his Halifax III, this time to Gladbach and Koblenz where there was 'heavy flak', and where the escape hatch of the plane blew off after setting course. Despite this, he was in action the day after to Cologne, where again he encountered 'heavy flak'.
January 1945 saw night raids over Dortmund, Hannover, Hannau, Kiel, Saarbrucken and Stuttgart, where there was 'moderate to heavy flak' and in 'very cloudy' conditions, the plane was 'late over target' and 'bombs were jettisoned'. They landed, short of fuel, at RAF Tangmere, east of Chichester in West Sussex. Returning from Tangmere on January 29th 1945, John and his crew were again in action over Germany, this time on night time raids to Mainz, and the Elbe estuary where they were targeting mining areas.
The beginning of February took John and his crew to Bohlen, just south of Leipzig, which had open pit mining areas; and the Oslo Fiord, from where the plane was diverted to Peterhead, in Aberdeenshire, following 'moderate to heavy flak' and '10/10 cloud'.
After one more raid in February, to Worms, John and his crew took part on an op over Chemnitz, where the first major raid by RAF bombers had taken place on 14/15 February 1945, but due to cloud cover most bombs had fallen on open countyside.
However on this operation, on March 5th, 760 RAF bombers attacked, and the headquarters of the car manufacturer Auto Union were badly damaged. After this successful mission John was diverted to Warmwell in Dorset, home to fighter squadrons engaged on both offensive and defensive operations.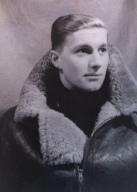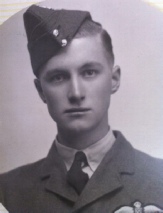 Two days later John had what he called a 'quiet trip' to the Flensburg fiord, an inlet of the Baltic sea, again targeting the mining areas. After a day of practice bombing, and 'landing on three', more operations took place to Essen, Dortmund, Wuppertal, Homberg, which were all cloudy but with little to moderate flak.
On March 17th 1945, on ops to Witten, with 'moderate to heavy flak', and on March 24th, to Sterkrade, near Oberhausen, where the railway station was badly damaged, John reports 'good prang' (?) The next day, on ops to Osnabruck, John again recorded 'good prang' but the aircraft was damaged by flak.
The end of March and the beginning of April found John and his crew undertaking squadron formation practice, formation flying, and air to sea firing, but by April 4th they were in action again, this time over Harburg, a borough of Hamburg, in the district of Lower Saxony.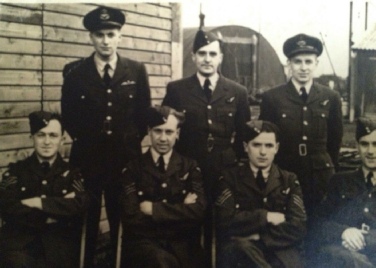 John was promoted to F/Lt on 29/03/45. As the war drew to a close, John and his crew (left) completed their last few daytime missions, to Heligoland, where he reported a 'wizard prang'; and his last op appears to have taken them back to Lower Saxony, to Wangerooge, where there was 'no cloud' and 'moderate to heavy flak'.
As the war ended in May 1945 John and his crew were ferrying between High Ercall in Shropshire and Kinloss, there was also a trip from base to the MOD St Athan RAF base, where he overshot the runway and crashed on landing. No-one was hurt, but he received an endorsement in his log book, that as an experienced pilot he did not exercise sufficient care whilst landing on a short runway.
In June John was attached to 1513 B.A.T flight for Beam Approach Training on Oxfords, a demanding course, which involved learning to fly by instruments only, guided by the radio beam system until the final stage of approach for landing. This was spread over 5 days, and consisted of 10 hours of radio range training. During the summer months of 1945 John conducted several 'cooks tours' of the Ruhr, to Bonn, Cologne, Essen and Dortmund, followed by Krefeld and Munster. Here he was accompanied by 2 or 3 crews plus one or two WAAFs.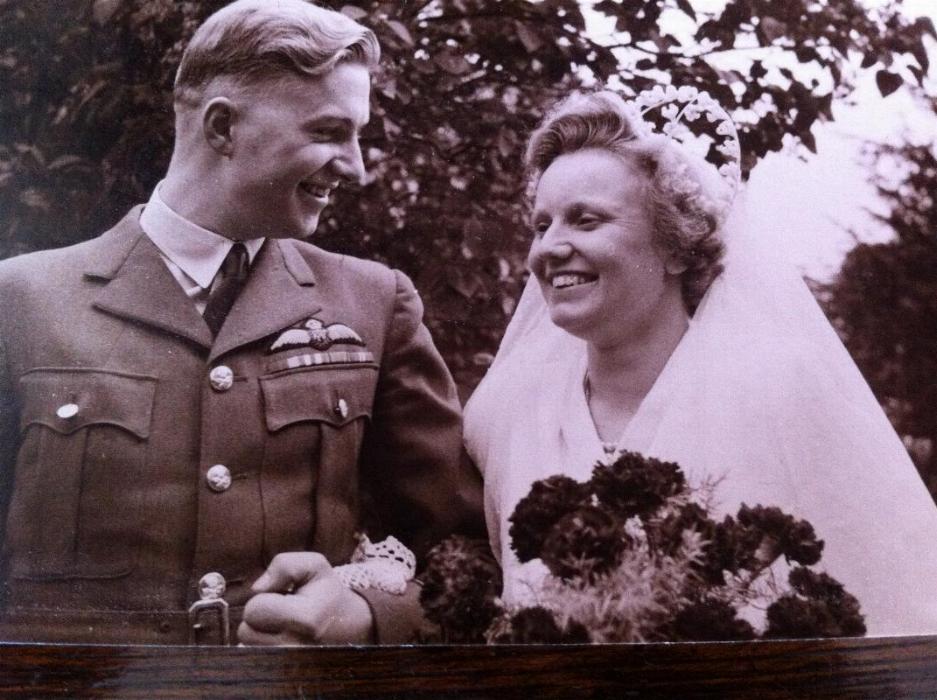 On 8th September 102 squadron moved to Bassingbourne, in Cambridgeshire, where John was to meet his wife, Iris, at a town hall dance in Royston. The last three months of 1945 to March 1946 saw John first instructing on Liberators, then ferrying arms and supplies, which took him to Morocco, Egypt, Libya, Iraq and India. He returned to instructing at the end of March, now based at RAF Booker, Nr Marlow, Bucks.
John finished his RAF career on May 3rd 1946, where he records his total operational hours as 169.30 and his total flying hours as 2003.10. In his summary on demobilisation he records flying Tiger Moth, Magister, Oxford, Whitley, Halifax II and V, Halifax III and VI, Liberator, Lancaster and Piper Cub aircraft.
John and Iris on their wedding day.