All information and photos are copyright '© 102 (Ceylon) Squadron Association 2020
(unless indicated otherwise) and may not be used without permission of the association.
Email: 102squadronassociation@gmail.com
The Official Website of the
102 (Ceylon) Squadron Association
102 (Ceylon) Squadron Association


A WWII RAF Pocklington Navigator, John Blair of 102 (Ceylon) Squadron, was featured on BBC Antiques Roadshow programme (14 Sept. 2020). Entitled 'Battle of Britain and the Blitz', it was a special programme to commemorate the conflict's 80th anniversary. It included an interview with the last surviving Battle of Britain pilot, 101-year old Paddy Hemingway, and featured several descendants of heroes of September 1940, civilian and RAF servicemen.
The programme's final item was a tribute to the many air force personnel who came to Britain from all corners of the Commonwealth to play their part. It focused on the career of John Blair, with his daughter and great nephew telling his story and displaying his medals and photographs.
John Blair was a newly qualified teacher in Kingston Jamaica, aged 23, when he heard one of Winston Churchill's stirring wartime speeches and straightaway volunteered for the RAF, the first of the services to welcome coloured recruits. After basic training in Canada he was posted to 102 Squadron in Pocklington as a navigator. On the programme his family was questioned about how he was received in Pocklington as a Jamaican airman, answering that he had told them "Yorkshire was extremely friendly". John Blair liked a beer and his daughter and great nephew related that when he went into Pocklington he "couldn't buy a pint in the pub" as someone would always buy it for him.
John Blair flew 33 missions from Pocklington between December 1944 to the end of the war, his outstanding service with 102 Sqaudron seeing him awarded the Distinguished Flying Cross in 1945. He turned down the opportunity to be demobbed and signed on for another tour of duty with the elite Pathfinders squadron. He remained in the RAF for another 18 years as a flight lieutenant, marrying an English nurse after the war and eventually returned in the 1970s back to the Caribbean where he died in 2004 aged 83.
(Article courtesy of Phil Gilbank, Pocklington Local History Society)
Flight Lieutenant John Blair DFC
This page contains two articles about Flight Lieutenant John Blair DFC who flew with 102 Squadron
Both are reproduced by permission of the authors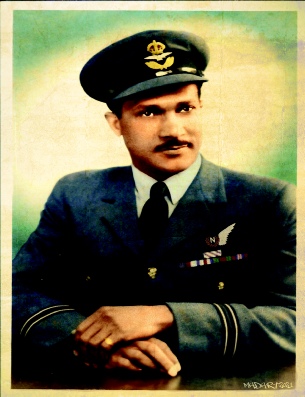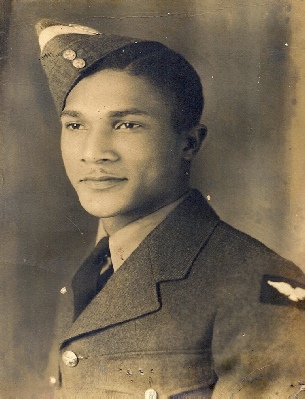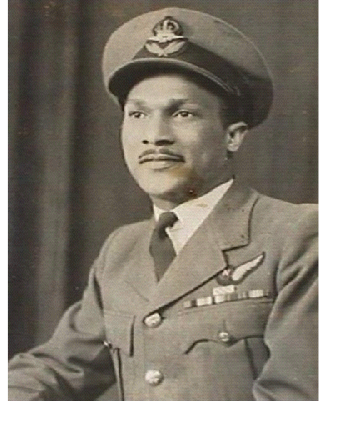 Taken during Training in Canada