All information and photos are copyright '© 102 (Ceylon) Squadron Association 2020
(unless indicated otherwise) and may not be used without permission of the association.
Email: 102squadronassociation@gmail.com
The Official Website of the
102 (Ceylon) Squadron Association
102 (Ceylon) Squadron Association


Stanley Sambell served in the Squadron. He was a pilot. He was taken POW when LW195/DY-H was shot down on the Braunschweig raid of 12/13 August 1944."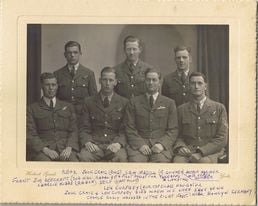 Rear -Jock Craig (Eng) Sam Magill (R Gunner) Arthur Aylmer (M id Upper Gunner
Front - Jim Beecroft (2nd Nav & Radar Op - assist for takeoffs and landings)
Charlie Kidds (Radio) Stanley Sambell (Capt Pilot) LenCurphey (our top class navigator)
Photo provided by Nick Hector, whose Great Uncle was Flying Officer Stanley Sambell
Jock Craig & Len Curphey died when we were shot down near Hamlyn Germany
Charlie was badly wounded in the right foot.