In April 1942 Harry Hughes trained as an Air Observer (Navigator) at the 8th Air Observer's School, flying Avro Anson aircraft, which was operated under the British Commonwealth Training Plan, in Ancienne Lorette, Quebec City, Canada, qualifying in July of that year.
He returned to England and went to 15 Operational Training Unit at Harwell, continuing to fly in Ansons and then went to the Conversion Unit at RAF Riccall where he moved to the Halifax.
He came to 102 (Ceylon) Squadron at Pocklington in February 1943 flying with Flying Officer Hartley.
Having finished his tour of operations in September 1943, as an NCO, he was awarded the Distinguished Flying Medal and moved to 1653 Conversion Unit as a Navigation Instructor. In July 1944 he went back to operational flying, attending 1655 Mosquito Conversion Unit at Upper Heyford, before being posted to 692 Squadron where he flew with New Zealander Flight Lieutenant Roy Momo.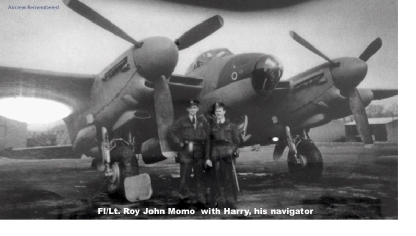 Harry flew 50 operations with 692 Squadron! All of them over Germany and including daylight operations. As a Flying Officer, he was awarded the Distinguished Flying Cross in February 1945.
He continued to fly in ferry units in India and with 52 Squadron and 48 Squadron, Transport Command in the Far East until returning to England where he remained in the RAF until 1953.
Harry accrued almost 1,500 hours of operational flying!
Some years ago Harry recorded an interview with the International Bomber Command Digital Archive which can be heard using the link:
(https://ibccdigitalarchive.lincoln.ac.uk/omeka/items/browse?collection=888)
Definitely worth a listen as he talks about his service and time in the RAF!
Harry became Chairman of the 102 Squadron Association in 2016
On the 10th of August 2022 Harry Hughes DFC DFM celebrated his 100th birthday with his family and carers at his home in Cornwall.